Title: 911 Operator
Platform: PC / MAC: 2016
Genre: Managment
Developer: Jutsu Games
Producer: PlayWay SA
Steam Greenlight
New tailer:
"Best Indie Game" award at Digital Dragons 2016 Indie Showcase goes to "911 Operator".
Congrats to our dev studio - Jutsu Games.
They won most prestigious indie game award in Poland!
"911 Operator" beat 60 other indie games in the contest.

Tytuł "Najlepszej Gry Indie" na Digital Dragons 2016 Indie Showcase wędruje do "911 Operator".
Gratulacje dla naszego studia developerskiego - Jutsu Games.
Zdobyli najbardziej prestiżową polską nagrodę dla gry indie!
"911 Operator" pokonało 60 innych gier indie startujących w konkursie.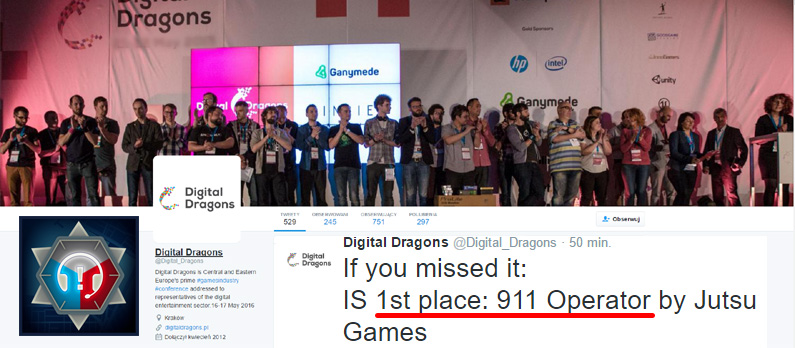 911 Operator
The game about the difficult work of people that manage emergency lines and services.
Main task is to answer incoming calls and to react properly ­ give first aid instructions, advise, dispatch correct number of firemen / police / ambulances , or sometimes ­ just ignore the call.
Key Features: ­
- Over 50 different dialogs ­ sometimes serious and dramatic, sometimes funny or irritating
- Real First Aid Instructions and procedures
- Option to download and play on ANY REAL CITY in the world! ­
- 10 carefully prepared cities in campaign mode with specific events.
Other features: ­
- Over 140 types of generated reports
- 12 types of emergency vehicles, including helicopters, vans, trucks and bikes
- Easily moddable
- Easily extendable by new dialogs
911 Operator screenshots: