Title: Giant Machines 2017
Platform: PC
Genre: Simulator
Producer: PlayWay SA
Developer: Code Horizon
Planned: 29.9.2016
STEAM
27_10_2016 Giant Machines 2017: YouTube by -> YOGSCAST Lewis & Simon ( 7,400,000 sub )
Giant Machines 2017: YouTube by -> YOGSCAST Lewis & Simon ( 7,400,000 sub )
Giant Machines 2017:
Become a one man machine to operate the biggest equipment in the world.
Use it to dig, drive, transport, demolish and more.
Make your way in to space by fulfilling objectives in 12 exciting missions in immersive story mode.
- operate biggest machines in the world
- 14 unique, complex, exciting missions
- advanced, highly realistic simulation experience
- astonishing details level of machines
- demolish on enormous scale
- immersive story mode
- transport heavy and dangerous materials and equipment
- various and large locations in beautiful graphics
9.10.2016 Nerd 3 - 2,500,000 Youtube substription
2.10.2016 Rock Paper Shotgun about Giant Machines 2017


1.10.2016 SpeirsTheAmazingHD - 1,100,000 Youtube substription
1.10.2016 Many Youtubers finds Giants Machines 2017 as interested game.
On hunderts of movies you can see our title.
https://www.youtube.com/results?sp=CAMSAggE&q=giant+machines+2017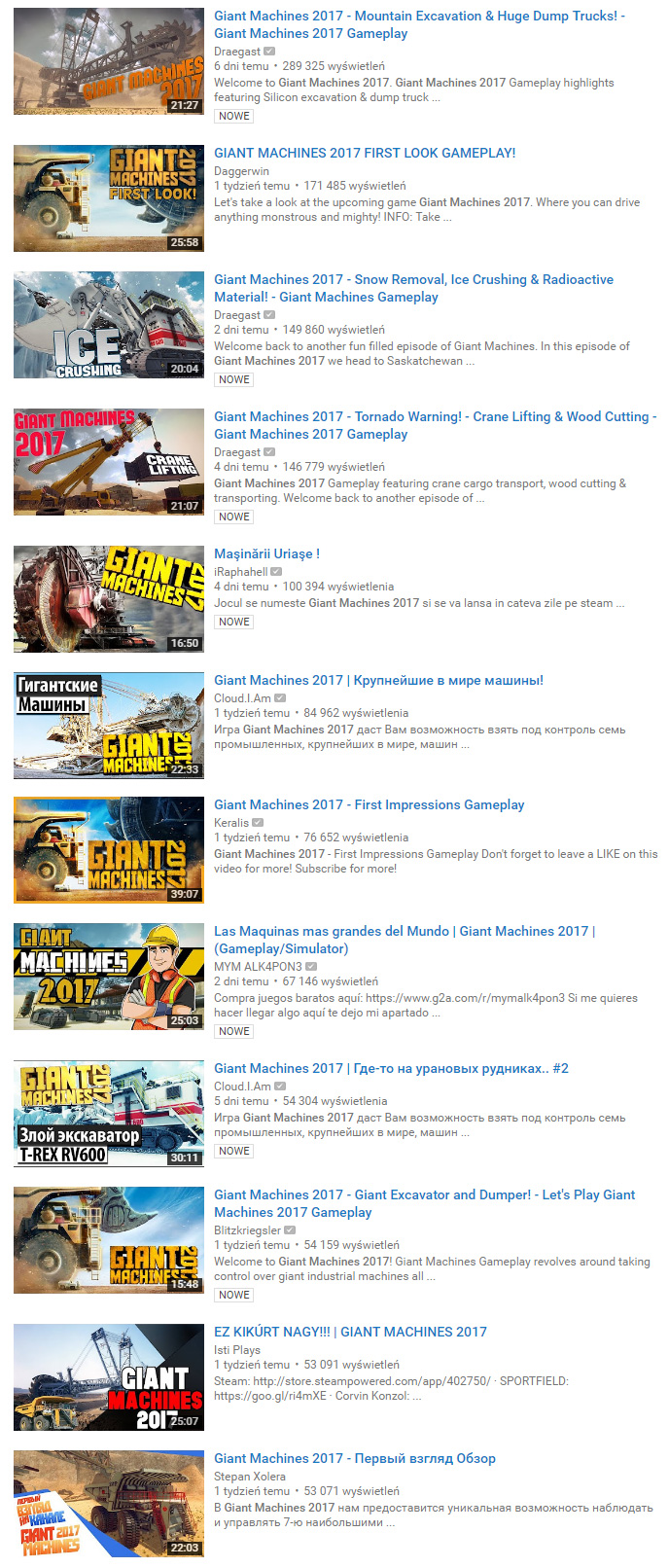 29.9.2016 Giant Machines 2017 on STEAM now: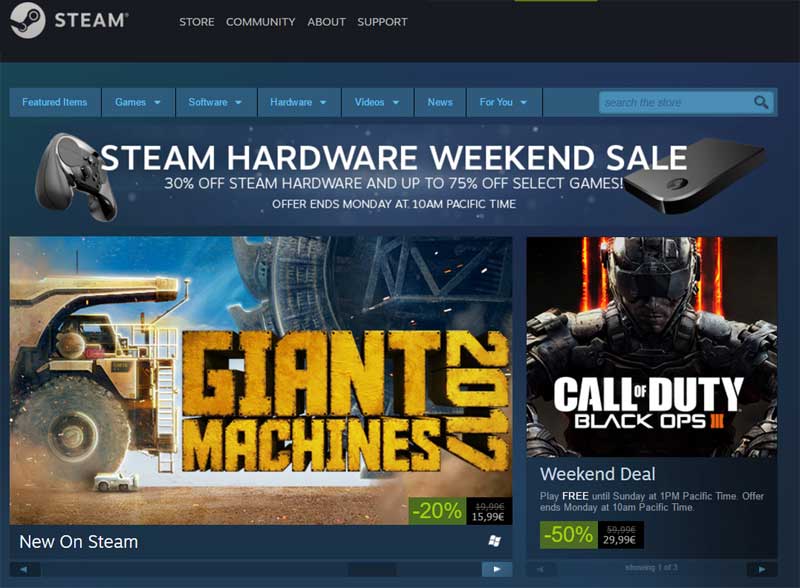 Giant Machines in Most Polupar Release
Positive reviews: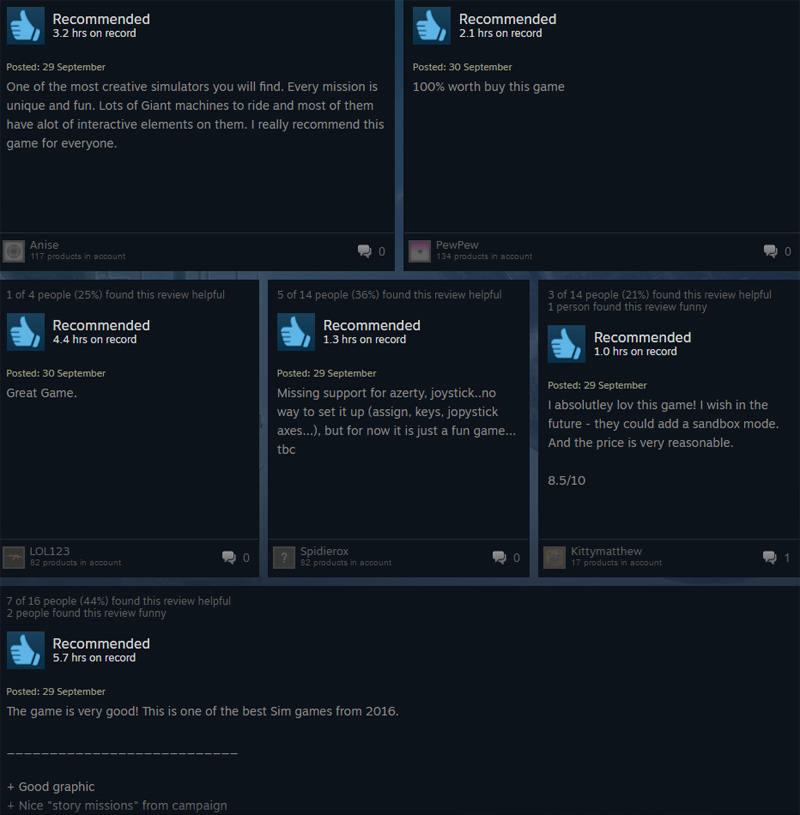 First Gameplays:
Recenzja po polsku:
Opis polski:
Gra Giant Machines 2017 umożliwia objęcie kontroli nad siedmioma największymi
maszynami przemysłowymi jakie istnieją na świecie. Dzięki nim wkroczysz w świat syczących
układów hydraulicznych, giętych łyżek - w świat o zapachu diesla.
W odróżnieniu od dotychczasowych symulatorów, zestaw 14 głównych misji stojących na
drodze gracza komponuje się w jedną historię. Jej cel to wysłanie promu na Międzynarodową
Stację Kosmiczną. Będziesz między innymi:
 kruszył zbocza gór,
 przesuwał tony ziemi,
 ciął metalowe konstrukcje
 kopał radioaktywną rudę,
 i transportował (skały, rudę, maszyny...a nawet prom kosmiczny!)
Nasze maszyny to przede wszystkim:
 wiernie odwzorowane brył oraz kokpitów,
 całkowicie analogowa obsługa wszystkich łyżek i wysięgników,
 pełna symulacja fizyki (bez uproszczeń!).
Twoja kampania toczy się w 6 różnych lokacjach geograficznych tj. w Grenlandii,
Kanadzie, Wyoming, Missouri i na Florydzie. Dzięki wiernemu odwzorowaniu graficznemu
maszyn udało nam się ukazać ich ogrom (w stosunku do człowieka, samochodu osobowego lub
budynków umieszczonych na mapach). Dodatkowo możesz poruszać się w trybie
pierwszoosobowym po maszynie, rozległy widok z kabiny pojazdu drastycznie zwiększa wrażenie immersji.
Alternatywnym trybem rozgrywki jest Time Attack. Odblokowuje się on po przejściu trybu
fabularnego (kampanii) i w jego skład wchodzą wybrane misje. Nagrodą za wykonanie misji w
określonym czasie jest brązowy, srebrny lub złoty medal i uwiecznienie Twojego imienia na liście
najlepszych (highscore).
Na deser czeka Cię Biblioteka Maszyn. Dzięki tej małej encyklopedii z modelami maszyn
3D, powiększysz swoją wiedzę na temat największych maszyn świata. Zapoznamy Cię przede
wszystkich z ich parametrami technicznymi oraz możliwymi osiągami.
Maszyny dostępne w grze Giant Machines 2017:
 Bagger - gigant wśród gigantów - maszyna zdolna zedrzeć zbocze góry
 Crawler – standardowa platforma transportująca... promy kosmiczne
 Demolka - urządzenie rozbiórkowe - np. do cięcia stalowych rur i masywnych rusztowań
 Buldożer - niezastąpiony, gdy trzeba przesunąć parę ton ziemi/śniegu oraz niewielkie
obiekty
 Wywrotka - dobry, gdy trzeba przewieźć tygodniowy urobek z kopalni
 Koparka - jak sama nazwa wskazuje kopie w skałach - w pionie i poziomie
 Żuraw samochodowy - przerzucanie wielotonowych kontenerów nigdy nie było tak proste!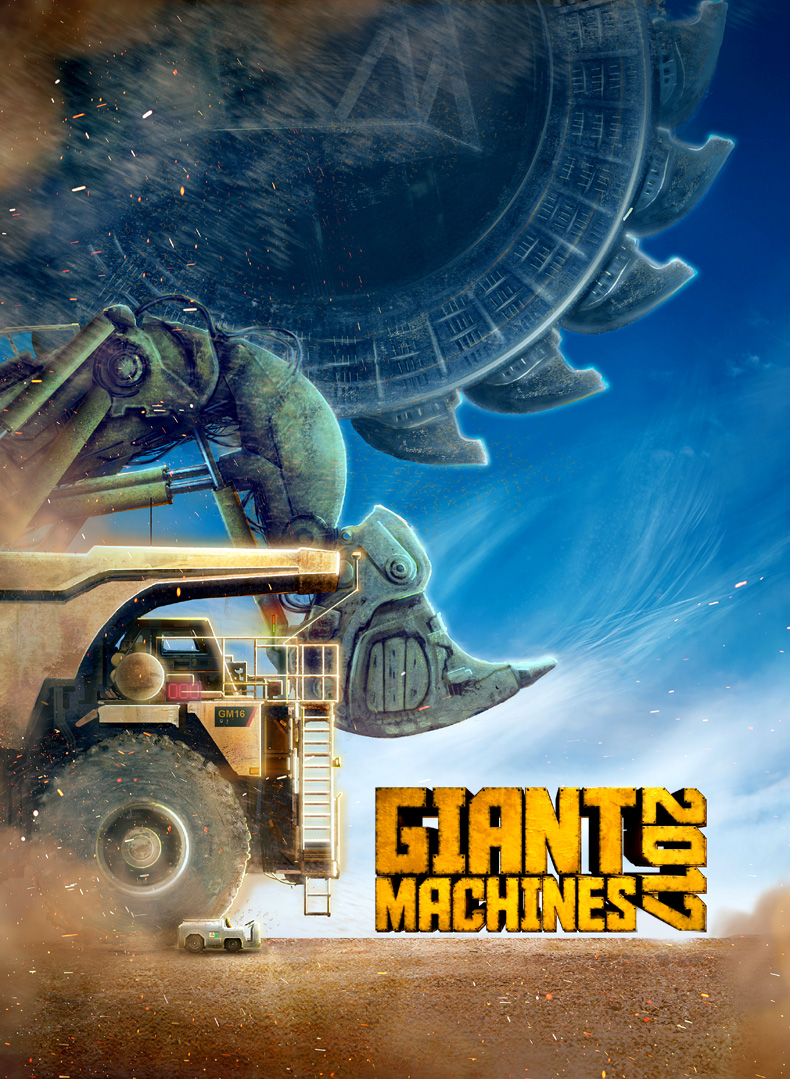 Giant Machines 2017 - coming to retail BOX in Poland Czech Slovakia Hungary