Car Mechanic Simulator 2015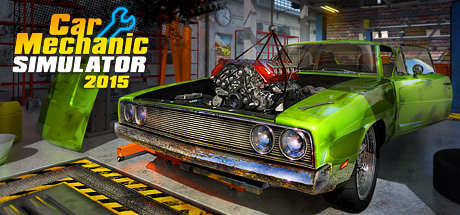 Steam score 91% (35,267 reviews)
Title: Car Mechanic Simulator 2015
Platform: PC / MAC: april 2015
Genre: Fixing Simulator
Producer: PlayWay SA
Developer: RedDot
Buy on: STEAM
Kickstarter CMS15 / KickStarter staff pick !
CMS 2018 : STEAM
WWW: https://www.carmechanicsimulator.com/
Car Mechanic Xbox / PlayStation / Steam
#PS4_US bit.ly/2XvLjbz
#PS4_EU bit.ly/2OfhF60
#XB1 bit.ly/2QqcUt1
#Steam bit.ly/2OnyrQv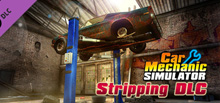 Car Mechanic Simulator 2015: Car Stripping DLC

Car Mechanic Simulator 2015 :Total Modifications DLC

Car Mechanic Simulator 2015 :Bentley DLC
Trailer: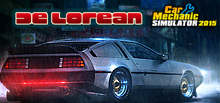 Car Mechanic Simulator 2015 : DeLorean DLC
Trailer: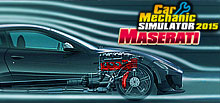 Car Mechanic Simulator 2015 : Maserati DLC
Trailer: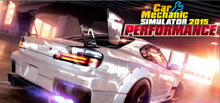 Car Mechanic Simulator 2015 : Performance DLC
Trailer: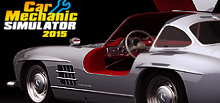 Car Mechanic Simulator 2015 - Mercedes-Benz DLC
Buy on STEAM
Mercedes-Benz DLC includes two legendary, licensed Mercedez-Benz cars:
- 300 SL Gullwing (W198):
Introduced in 1954, world's fastest production car of its day. First-ever production fuel-injection. Gull-wing doors. Iconic.
- 560 SEC (W126)
Most powerful and desired version of one of the most beautiful cars in history.
Experience them in superb quality and astonishing level of details.
Repair, drive, buy, sell and contemplate them.
Mercedes-Benz DLC -Trailer

Screens :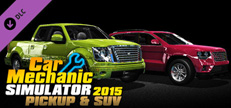 CMS 2015 -DLC#4 - Pickup & SUV availabe from 18 august 2015: STEAM
Craving for 4x4's? This time we prepared something for all lovers of big cars - brand new cars with 4x4 drive, new parts and tuning kits.

CMS 2015 -DLC#3 - Trader Pack availabe from 3 july 2015: STEAM
New package of cars, parts and possibilities for all car maniacs - for trade - for sale.

CMS 2015 -DLC#2 - VisualTuning availabe from 19 may 2015:
STEAM
Getting tired of seeing stock cars only? This DLC contains nearly 200 new body tuning parts for CMS 15.Buy and mount new headlights, taillights, hoods, front and back bumpers.

CMS 2015 -DLC#1 - Youngtimer availabe for free: STEAM
Work on one of the most popular european Youngtimers. This DLC includes brand new car model with almost 100 new parts to work on.
Car Mechanic Simulator 2015 - on STEAM now !
In cooperation with: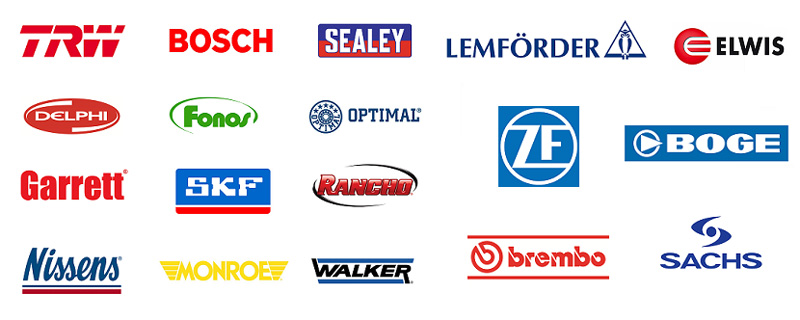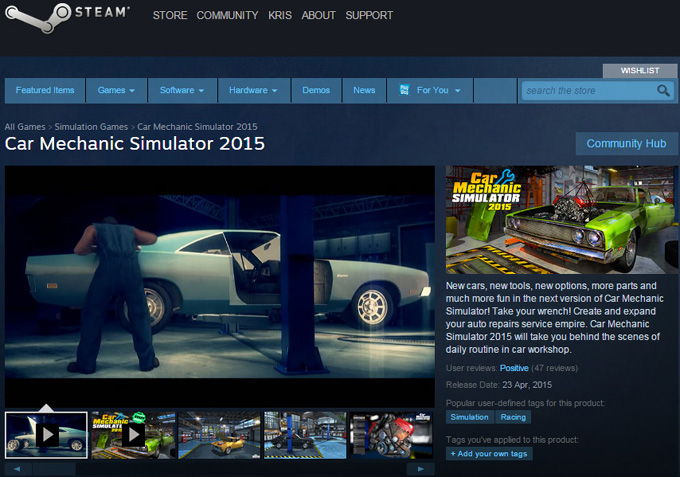 TOP 10 Steam 24 april 2015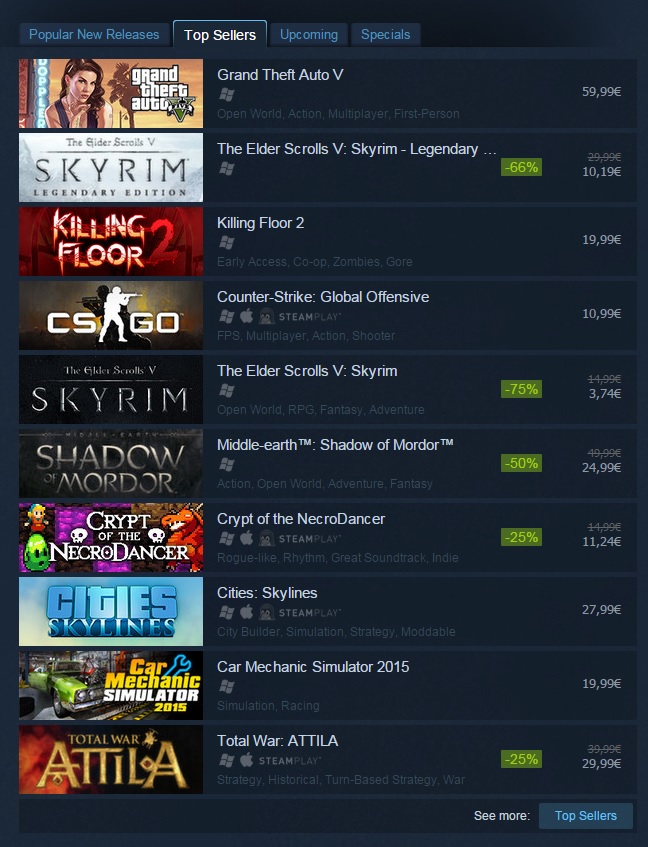 New: Official trailer
Car Mechanic Simulator 2015 - Funded! 1285 backers give us 22,866$ . thanks!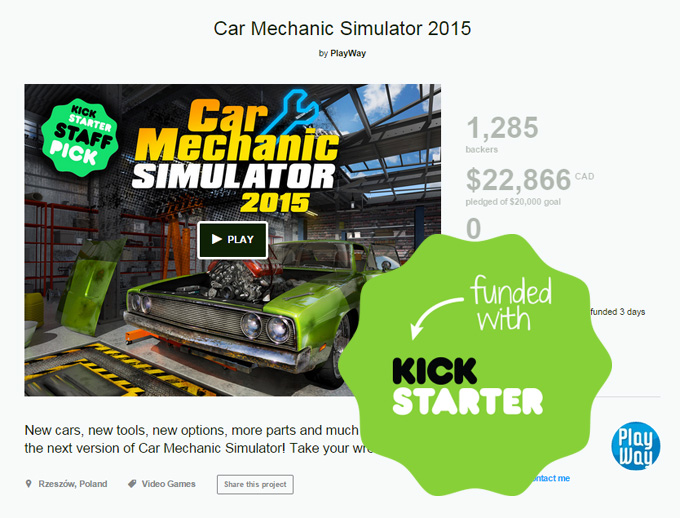 Create and expand your auto repairs service empire. Car Mechanic Simulator 2015 will take you behind the scenes of daily routine in car workshop.
WATCH TRAILER ON YOUTUBE!
Car Mechanic Simulator 2015 is a direct sequel to the succesful Car Mechanic Simulator 2014. After the release of the previous edition we got a lot of feedback from players and we felt that we haven't reached the full potential of it yet. Check out the improved Car Mechanic Simulator with new features, cars and parts. There is a lot of new stuff to present.
This is the next generation of Car Mechanic Simulator, one of the best simulation games on Steam in 2014:
Take a look how the previous edition of Car Mechanic Simulator looks like. We can proudly admit that CMS2014 was one of the most popular simulation games on Steam over the past year. We have also released two DLCs: 1/4 mile and 4x4 add-on. In 2015 edition we are planning 4 possible DLCs!
Let's go back to the main theme:
Take on the role of the car mechanic and repair cars for your clients. Spend the earned money on expanding your workshop and improving your skills. Buy worn out cars, renovate them and sell with profit or become a famous car collector. If you manage your business well, you will surely succeed in the market.
The essence of the game. It is your job. It is the way you get cash. It is the way you live... Ok, it is maybe not that important, anyway that is the basic activity in the game. Customer comes in and mysteriously says that his car is broken but he needs it for tomorrow. The clock starts right now.
Unlike in the previous edition, jobs are generated randomly, and the player will need to choose on which car he will work. It seems like there is a group of customers waiting in front of the workshop for the mechanic...
Players can take limited amount of jobs in the same time and every one of them will be time-restricted. There will be different difficulty and complexity levels and of course, different payment levels. Wise management is the key here.
After whole day of hard work it is time to count your cash and then look around your business. What should I buy to improve my performance? What would attract more clients? You can always just buy more posters on the wall but it is not something called 'great investment' for such a serious business, right?
Speaking of investments.There is a chance for making even more money in the car auction house. Choose wisely, buy used or old cars and renovate them to sell with profit... Or, if you are one of those vintage car lovers, you can have your own collection.
Cars will be fully dismountable to the car frame, so we are talking about some amazing level of detail here, just take a look:
Every car is made of more than 200 interactive parts, which includes an interior, a car body and the whole engine.
Here is the list of features that will be implemented in the game if we manage to reach 20 000$ stretch goal:
Car auctions - buy old cars and renovate them. You can then sell them for cash or have your own collection.
The photo mode - take "before" and "after" pictures of the renovated cars.
Visual tuning - replace bumpers, lights, wheels, a bonnet or a steering wheel to adjust the car for the customer's needs.
Repair cars for your clients - it is your main source of income.
An infinite number of randomly generated missions.
Upgrade your workshop - purchase necessary tools and expand your garage with specific equipment such as lacquer spray booth or dyno. Those reasonable investments will allow you to provide greater range of services.
16 brand new car models. Each one is made of more than 200 parts. Amazing level of detail!
CMS15 presentation:
Inside screens:
Outside screens:
Youngtimer - 1st free DLC in production:
Our trailer mechanic: