Train Mechanic Simulator 2017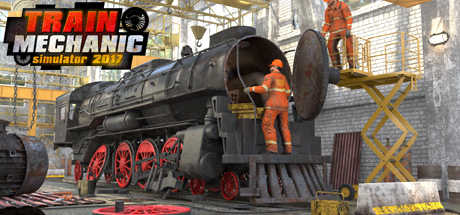 Steam score 64% ( 528 reviews)
Title: Train Mechanic Simulator 2017
Publisher: PlayWay SA
Developer: Si7 Studio
Platform: PC
Genre: Simulation
Release: 23.3.2017
Train Mechanic Simulator 2017 on YouTube
Train Mechanic Simulator 2017 on Steam now
25.3.2017 - 1,3 mln YouTuber:
https://www.rockpapershotgun.com/2017/03/27/train-mechanic-simulator-2017-pulls-into-steamtion/
https://www.keengamer.com/article/15894_train-mechanic-simulator-2017-review
http://www.gry-online.pl/S020.asp?ID=11896
Trailer
Steam New Most Popular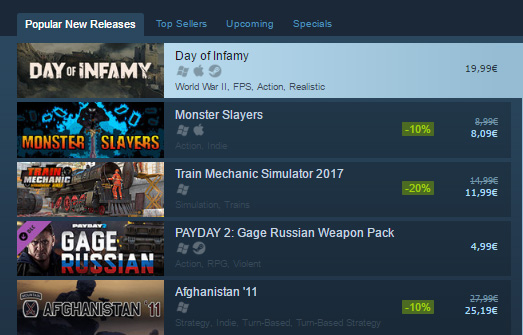 Top Steam Promo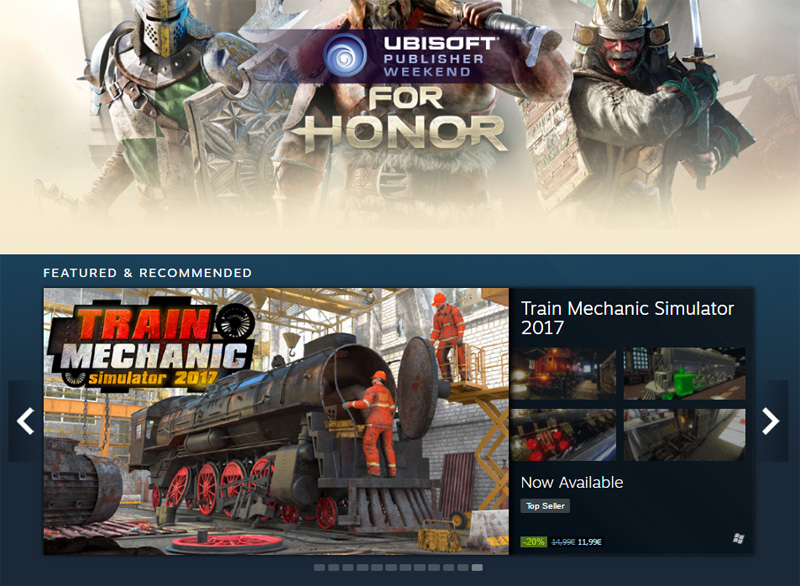 #28 Top Steam Global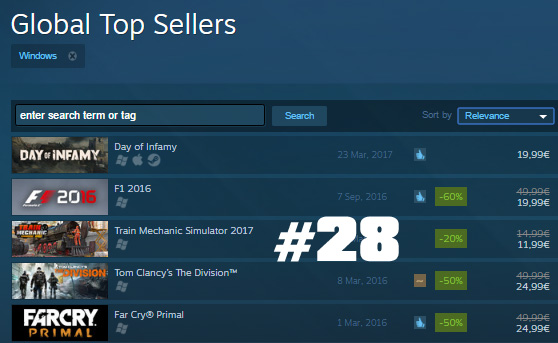 Train Mechanic Simulator 2017 on YouTube
700k sub Youtuber
700k sub Youtuber
600k sub Youtuber
200k sub Youtuber
200k sub Youtuber
Take your opportunity as real Train Mechanic. Find locomotives around game world that needs your help and repair them in one of 3 workshops localized in huge 25 km2 open world. You will be face all types of damages in all genres of trains : Diesel, Electric and even Old-School Steam units.
- 9 trains to repair in all types: Steam, Electric and Diesel
- Open 25 km world full of railways and different locations
- 3 workshops with more than 1000 parts to repair
- Unique Economy System – You will decide about strategy of repair and ROI of it
Trailer:
MECHANIK TABORU KOLEJOWEGO 2017 W PLANIE WYDAWNICZYM FIRMY CENEGA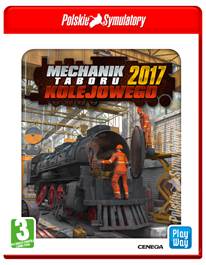 23.02.2017, Warszawa – Cenega, oficjalny partner PlayWay w Polsce, Czechach, na Słowacji oraz Węgrzech z przyjemnością informuje, że do jej planu wydawniczego trafiła gra Mechanik taboru kolejowego 2017, czyli polska edycja gry Train Mechanic Simulator 2017, stworzona przez Si7 Studio. Tytuł ukaże się w ramach serii Polskie Symulatory 17 marca na komputery osobiste i dostępny będzie w podwójnej wersji językowej – polskiej (napisy) i angielskiej. Za polską lokalizację odpowiada wydawca gry.
Wciel się w rolę mechanika lokomotyw i pociągów. Odszukaj uszkodzone lokomotywy na torach i napraw je w jednym z 3 warsztatów zlokalizowanych na 25 km2 otwartego świata kolei. Staw czoła wszystkim typom uszkodzeń w 3 rodzajach lokomotyw: spalinowych, elektrycznych oraz oldschoolowych parowozach.
3 warsztaty do wyboru: skorzystaj ze świetnie wyposażonych zakładów naprawczych

Ponad 1000 elementów do naprawy: od drobnych usterek po poważne awarie

Unikalny system ekonomii: zdecyduj o strategii finansowej oraz systemie napraw

Otwarty, zróżnicowany świat: 25 km2 trasy pokrytej liniami kolejowymi

3 rodzaje lokomotyw: spalinowe, elektryczne oraz parowozy
Grę zamówić można przed premierą m.in. na muve.pl lub sklep.gry-online.pl.
O serii Polskie Symulatory:
Polskie Symulatory to seria najlepszych gier symulacyjnych stworzonych przez polskie studia developerskie. Operuj niezwykłymi maszynami, jednostkami i pojazdami oraz sprawdź się w różnych zawodach, by odkryć swoje ukryte powołanie! W ramach serii ukazały się do tej pory: Demolka i budowa 2017, Wielkie statki Bałtyku 2017, Wielkie maszyny 2017, Roboty i drony 2017 oraz Operator numeru alarmowego.